Why Are So Many Christians Confused About Bible Prophecy?

Don't be confused about Bible Prophecy. "For God is not the author of confusion, but of peace, as in all churches of the saints." I Corinthians 14:33 (KJV)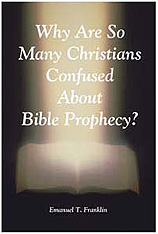 This book shows:
Why the return of Jesus is not imminent as many believe.
Where people went wrong about the year 2000.
Where America is in prophecy.
And much more.
To order by mail:
send a check or money order for $20.00
with your name and address to:
Mysteries From The Word Of God Ministries,
P.O. Box 6391, Vancouver, WA 98668
USA
To order it at your favorite bookstore:
Request it using ISBN number
0-9711584-0-1
Click here to buy online